Writing evil or writing Myths —A review of Miss J Diaries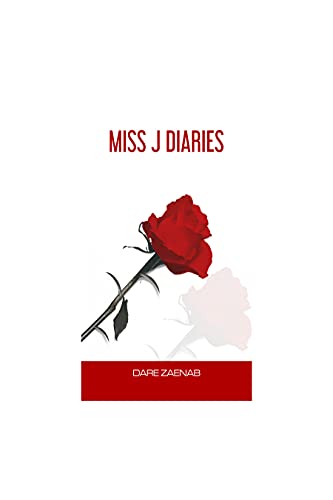 Miss J Diaries reads like a maniac scrawling in a diary and that, I believe is the intention of the Author. Dare Zaenab holds nothing back as she opens this wine bottle of short stories. For a debutant short story writer, there are shaky grounds, yes but overall, she came out of her shell with a bang to tell this two-tier story. Let's dip our legs in and check it out.
Grab your cherry bowl
Zaenab starts with Alter Ego, the first of many mythical short stories where a young lady obtains a book of dark magic in a bid to take down a crime ring. To her utmost surprise, the mystery book has her handwriting all over it. Maya is the last of her kind and she doesn't even know it. Alter Ego sets us up for the rollercoaster of storytelling as the author puts us through the phase.
It is not all myth though, the author, like every good storyteller, puts a bit of herself into the story without giving it away. She writes in the Nova Effect;
"My parents wouldn't let me play with other kids,
unless the ground was dry. So, I waited for the
rain to stop."
Sounds familiar? I think it does to me. Growing up in the Southwestern part of Nigeria, my parent was very curious about playing in the rain. Perhaps the author's parents were like mine. Maybe this is not just a myth, maybe this is not just her imagination. Perhaps this is truth folded neatly within the seams of fictional storytelling.
Cherry bowl is a mythical maze of storytelling; it tells tales of witches, wands, spells, dreams, and visions of the night that resulted in harm or healing to the subject of the mythical substance. In the painter of doom, the author comes precise. You would think it was not a story of myth and magic, but somewhere under the cover, there was just that element of magic.
There she sat calmly, while the bully seized her
paintings. He mockingly said to her; "Name your
price for the drowned man paintings." He knew
he wasn't going to pay her a dime, but what he
did not know was that those were mere beautiful
paintings of his impending doom.
A painter who paints the future sits as a bully takes away her painting. There is magic, because how can you know the future enough to paint it? That's magic, and it is how the author wraps the extraordinary in ordinary, everyday things. She talks about danger, evil, pride, greed vengeance and she painted sometimes how we meet our waterloo after we have embraced such acts.
And if you don't particularly enjoy the dark world of magic and wands, the collection still caters to your taste. The Auction is grounded in reality, a trade where a son does not know he would be sold is offered on the bid round and the family bidding for him is one he had given hell a few weeks before. There are other stories like Back in the city and Cover girl that make you see the world as it is today; not in the past or the future, neither planted in the dark world of alternate fantasies the author paints generally in the first tier of the story.
Oh Dear gives a peek into the brilliant mind of the author and shows that she is capable of pulling out aces when you think the cards are done with. The twist to the end of the story was crazy; a lady escorted a macho man to an exhibition and she got kidnapped at some point. Her kidnapper requested two artworks in exchange for her life to which the man mutters "Oh dear, seduction is my least favorite art….." The twist was everything!
Throw the ashes
In Ashes, the author tries to leave this feeling of longing and hollowness in the reader; the entire collection is strewn with death, darkness, and gloom, but in Ashes, this becomes more pronounced. Where do you get to throw ashes, dirt, and clods? Are those not things for the funeral grounds? Maybe not mortal death, but the second tier of the story opens with A sinking ship where a ten-year marriage that has been on the rocks before it started is beginning its final descent to the sea bottom.
We are still not spared the dark side of the art that the author explores. In the purple memoir and Sweet Dream Interrupted, the author again delves into the mysterious otherworldly storytelling telling form that doesn't bother to separate fantasy from reality; they are both muddled up in the fast-paced storytelling form that she adopts. Black widow is aptly named for a woman who is in search of her husband although she killed him herself. Think of a James Hadley Chase story and this will come real than fantasy to you.
Bridal shower interrupted brings another edge to the death that lurks around the corners in the section themed Ashes. It is a story of a bridal shower gone wrong after three of the bride's friends were murdered by their nanny. Not one to leave without a bang Not my brother tells the story of a story that starts in the beauty parlor about a young lady that had a brother complex.
If we go by the title of this collection, one lady would have had too many gory experiences to have had this 'diary' all to herself. However, I am not one to judge one's experiences for them. Dare Zaenab writes with the somber naivety of a debutant storyteller and at some other time, she penned her story with the reckless abandon of a sage. The lack of a common thread that ties the entire collection together might be worrisome to the academic story reader, but the variety is a thing of joy to those who love to read stories for stories' sake.
Bio
Babatunde Adeleke is a Nigerian poet, writer, and columnist with the Nigerian Tribune. He believes that words can be used to recreate our existence. He explores various themes and experiences to sharpen his creative edge. His poems have appeared in Erogospel, Brittle Paper, Kalahari Review, Springng and anthologies, including Today I Choose Joy, For Those Who Find Love and elsewhere.
His chapbook Origami was published by Inkspired in July 2021. He also writes a weekly Erotica series, Eros on Sundays, where he explores the mysticism and godliness of the erotic experience. He lives in Ibadan, Nigeria. You can connect with him on Twitter and Instagram @lakezWrites
Please follow and like us: