A Booktiful Love epitomises poetic-storytelling in a conscious manner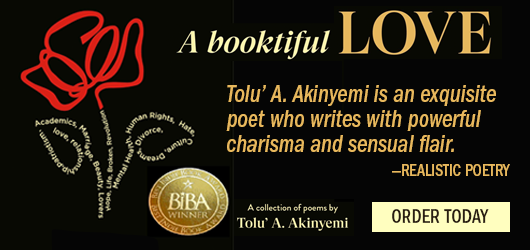 Reviewer: Emmanuel Ojex
It's okay to start small–
Little beginnings
with no endpoint in sight
A Booktiful Love makes for a wonderful journey read. The author, Tolu Akinyemi, goes out of his way to touch the heart, eyes and soul of the reader of the book.
From the very first poem in the collection, Isolation; the author shows his dexterity in being a printer of reality on paper…
We watched the news
And the news fed our hearts, until the gloom
crept from the screen into our souls.
The above lines go in round-about ways to express the innermost feelings of almost every human who experienced and lived the Coronavirus pandemic.
But just as he does in every other work of his, Tolu Akinyemi was able to, yet again, inspire more than just hope in the reader. He lights a fire that stays for too long a time.
You asked for a sign. I tell you: the only sign is your breath.
The air emitting from your nostrils is enough proof that your dreams are valid.
No part of this book misses the 'Tolu effect'
Wear teachability like a bracelet and you will come out roaring.
If there is one thing of a genius in A BOOKTIFUL LOVE, it is the simplexes of the language. Though the messages carried across the book are cogent ones, the book itself reads in an unproblematic manner. This allows it access to the mind of the very average of readers who are not into mammoth use of grammar.
A Booktiful Love is definitely another masterpiece by the roaring writer himself. And thankfully the book is sized to fit into a little bag, it makes it even more the better.
GENERAL REVIEW
A Booktiful Love is a poetry collection that opens up the recesses of the heart of its reader.
The collection touches on socio-cultural elements that make it universally acceptable and recognized by both African and non-African readers.
Written by the Lion of Newcastle himself, the book is a collection of poetry that employs storytelling as a core tool to passing its message of various themes ranging from love, culture and tradition, personal development, growth, nation building, etc.
You'd almost never find poetic-storytelling in a more conscious manner.
Please follow and like us: