Just One Slap: How 'Blood Sisters' Highlights Domestic Violence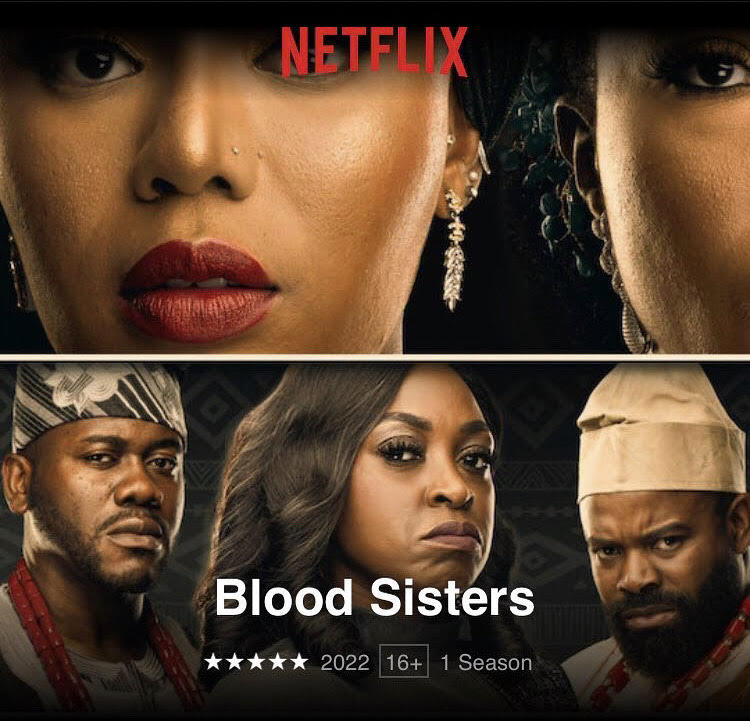 Reviewer: Adeola Gbalajobi
Nollywood has often been accused of producing subpar movies, with questionable storylines and poorly developed characters. Sometimes, it is guilty as charged. But occasionally, Nollywood offers its vast audience a sparkle of brilliance, going beyond its insular storylines. And I think with Blood Sisters, Nollywood went all the way to give us a thrilling series.
Netflix's first original Nigerian TV series, Blood Sisters, tells the story of two friends, Sarah and Kemi, bonded together by the cord of love, loyalty and murder. The melodramatic series has the making of a thriller: a wedding gone bloody, but beyond the actions and thrill, this review focuses on a heart-wrenching scene in that series, without which the murder might not have happened in the first place. So, first, a backdrop.
Sarah is engaged to Kola, a handsome man from a wealthy family. Naturally, he would be the dream man of many women. But Sarah's countenance on the day of their engagement does not reveal a happy bride-to-be. We are not allowed to wait for long to know the reason — her fiancée, Kola, is a cold-hearted abuser.
On the very day of their engagement, he hit Sarah in her stomach after the latter had received a visit from a man, leaving her writhing in pain, not only for the hit on her stomach but a resignation to the knowledge that this is what lies ahead of her in her marriage.
One would wonder why Sarah would sentence herself to a union with someone capable of hurting her so. Her scene with her mother would answer the question.
Domestic violence is an endemic issue in Nigeria. Hardly a day goes by without news about domestic violence. The victims are mostly women, and some of them do not live to tell the story. As a person who is interested in social psychology, my learning has taught me that, if a social issue persists, it persists because there is a culture that allows and condoles it. Maybe even endorses it.
Sarah knows she should not marry Kola. She calls her mother to tell her about this, about how he abuses and hits her. 'I am not sure I can do this," she weeps. The mother's response, appalling as it is, is not surprising: "So you are telling me that you are willing to let go of everything because of one slap? Just one slap?"
There have been countless campaigns against domestic violence in recent years, but little attention has been paid to the mindsets, culture and socioeconomic issues that allow it. Most abusers perpetuate their abuses because they know they can get away with it. And the enabling factors are multi-layered, from economical advantage to a cultural mindset that presents marriage as an achievement to womenfolk, one which they have been prepared for all their life.
In Blood Sisters, we see the economic factor come to play, with a mother leading her only daughter to the lion's den because of the economic benefit she and her husband stand to gain. In all these, Sarah was not put into consideration.
There is a form of loyalty to the tight-knit familial culture in our part of the world burdens us with. While it has its many merits, it comes with its disadvantages as well. Many people are loyal to their families at their own expense. This loyalty to her parent is the reason Sarah was willing to commit herself to an abusive marriage, willing to lock herself in a prison of lifelong anguish and pain.
Of course, Kola, a serial abuser, was cocooned by his family's wealth and mother's protection. The mother, the Ahithophelian matriarch of a dysfunctional family, is aware of her son's abuse of several women. But she not only condoles it, using her power and wealth to send some of his victims into hiding, but she also excuses all of her son's actions.
Blood Sisters highlights this social issue, the actors aptly interpreting their characters, bringing them to life with soulful performances pushed forward by realistic dialogues. And these, along with its cinematographic excellence, are what make Blood Sisters an interesting series to watch. The writers, Craig Freimond and Zelipa Zulu as well as directors Biyi Bandele and Kenneth Gyang, should be proud of themselves for a job well done.
In the later scenes of the series, Sarah's mother comes to her senses, but it is too late. By then, her daughter is already a fugitive on the run.
The series is didactic without attempting to be — a directorial brilliance, show, don't tell — and as such, I do not need to paint the lessons in green before you see them.
Please follow and like us: