Amife Sabatina's Little Words- A breath of Fresh Air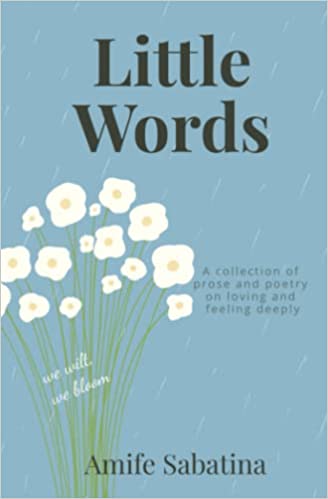 Words influence us, whether miniscule or piercing words. And as writers, we are duty bound to write those words. Amife Sabatina's debut shows a writer on a mission. And we can evidence the mission right from the first page–where the poet enjoins us to:
Hurry and make a story. Hurry! A quick moment and it'll be time to die.
The illustration on the page also captures the effect the poet envisions it to have on the readers. A door, hurrying to make a story before we kiss the world goodbye. Are we not all mere mortals who pass through this revolving door of life and death? The first chapter ends with A Letter to My 10-Year-Old Self, which shows the writer's intentions as she ferries us into the past: capturing the minds of young people too, with these little words.
There are days where you will bloom like a field of sunflowers on sunlight steroids and there are days where you will break down. There are days where you will be at odds with the life you have and there are days where you will be unbearably passionate to make it your best story.
Such calming and reassuring words for young people who are trying to find their voices and place in this overcrowded world. This also shows the multiplicity of literature and the role it plays in helping us fashion a society we can be proud of.
In Chapter 3, the verses in the poem, My Grandmothers' Hands, evoke powerful emotions:
My grandmothers' hands have seen slavery
They've broken shackles and pierced through grief
Many grandmothers within the African continent will resonate with this barefaced truth on the page. And this is the point of storytelling, to prevent erasure.
The persona ends the poem on an upbeat note:
The strength lingers
It won't ever die
It keeps alive like a gentle fire
It Keeps alive in me.
The tone of this poem shows a persona who is keeping the fire alive. Like passing a baton of resilience from one generation to the other. Not to wilt under the weight of oppression.
In Chapter 5, the poet speaks in a universal language that we all understand, Love.
Life is found in the moments
Where we are so in love
We forget our doom
The language of love needs no embellishments, and what's love if it doesn't lead to forgetfulness? What is the language of love if it doesn't momentarily erase the gloomy days?
And in Hugs, the persona recounts:
Hug me like I'm air
And you're desperate to survive
The imagery employed by the poet in the poem above is both visual and visceral, and it gives the reader a sensual feel of the different ways to express love.
In the poem "Growth" (Chapter 6), the persona recounts:
My blooming looks like tears
And anxiety
And depression
The poet is screaming loud here, "Buyers Beware" adulthood is a scam. Not everyone will bloom to become rose petals and lush hibiscus flowers, fresh as the morning dew. There will be days we will bloom into anxiety and depression and carry a casket of worries and pain on unsteady shoulders.
The closing verses of the poems linger in the soul, and cultivate hope, painting a picture of the reality:
You realize more and more as you get older
That the skin never stops shedding
And the heart never stops changing its mind
You bear witness
To the truth
That transcending does not stop
It just makes a full circle
And sweeps you off your feet again.
Analysing Fickle Amities, In Love Leaving:
The persona serenades us with a tale of love gone sour:
It is not okay that in a world with hard, tough things,
We couldn't do something as easy as never letting
each other go.
The verses above evoke emotions, however, there can't be love without heartbreaks and goodbyes. Also, forever happy love stories could be an illusion of some sorts. And in the next poem, I Loved a Thing That Leaves, the persona uses symbolism to great effect:
Man is a floating leaf.
And my greatest strength is that I loved a thing that leaves.
The simplicity of language, whether in lucid prose and effervescent poetry, worked well in this debut offering and the illustrations gives life to the words on the page. Amife is a fresh voice with plenty of room to grow and soar and her debut offering will appeal to readers who wish to bloom without encumbrances.
About the Reviewer:
Tolu' A. Akinyemi (also known as Tolutoludo & the Lion of Newcastle) is a multiple award-winning author in the genres of poetry, short stories, children's literature, and essays.
He is a co-founder of Lion and Lilac, a UK-based arts organisation, and sits on the board of many organisations.
Please follow and like us: