Four Poems | Michael Brockley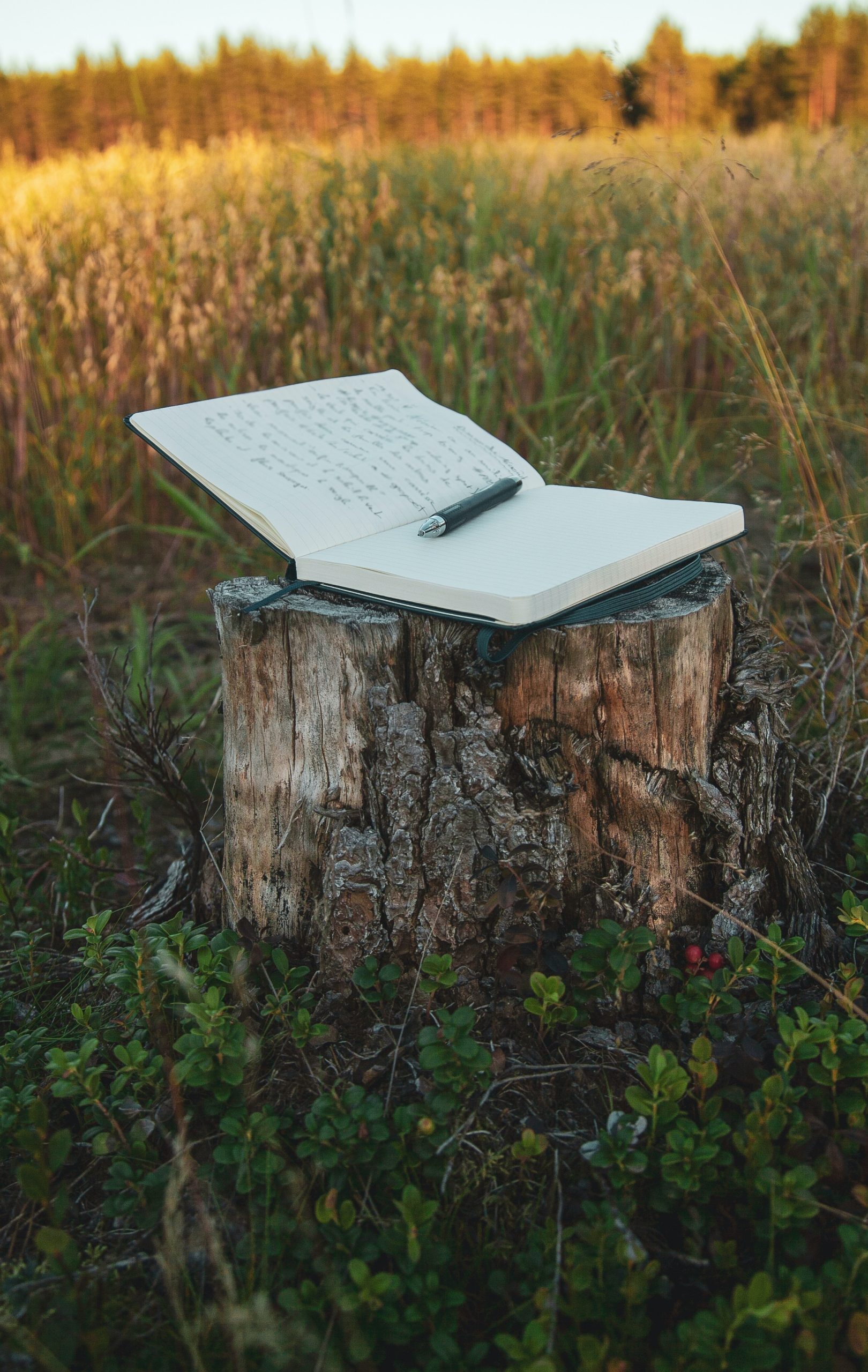 Where Am I Poeming: A Bards on the Run Poem for K. T.
You type a poem on an orange typewriter for the man who has traveled the world seeking the holy grail of boxer shorts and the secrets of the exotic bananas plotting to take over local produce stands. You make it up as you type. Striking a series of Xs over your mistakes. The man who has traveled the world has had his name mispronounced by famous people. Young women volunteer to join him on jaunts to play soccer in Central America and kabaddi in Bangladesh. He rescued slaves from cocoa plantations. Taught you how to find the number of slaves your lifestyle supports. Thirty-seven men and women. You eat too much chocolate. You write too many poems about driving away from your life. Too many poems about a ne'er-do-well with a modest collection of rayon shirts printed with surfboards or seahorses. Later today someone wants a sonnet about his beautiful daughter who makes bologna for a living, and a woman asks for a prose poem about the sunglasses she inherited from her mother. Once a Brazilian supermodel hugged you for the gift of flying with parrots in the rainforest. Your one shining moment. Your short cup of java with Aphrodite. Writing poems can be like that. While the man who has traveled the world in search of his holy grail treats garment workers to roller coaster rides and new-found friends to an evening at a bowling alley, someone else has to operate the return carriage on the orange typewriter. Someone else has to know how to spell "ineffable." There can be only one expert on Jingle Bells underwear. Still, every time you relive the Brazilian supermodel's hug, you believe there can never be too many experts on giving.
"I ain't headin' to nowhere"
"I'm just runnin' from." Clyde Barrow, Bonnie and Clyde (1967)
When the small-town county fair beauty asks you what it's like, she's asking about armed robbery. Not about the time you mangled your toes in prison. She wants an excitement that can't be found from the truckers who slap her ass while she's waiting tables in east Texas. You have a taste for fried peach pies. Favor fedoras and snap-brim caps. "Name's Clyde," you say. "Clyde Barrow." Your moll's Bonnie Parker. The first bank you hit drops $1.98 into the kitty. Still, you know how to jack a convertible. And how to make a woman long to caress the business end of a gun. But you shrink away from the jackpot blonde in your hideout bed. You're no lover boy you say. The newspapers claim you knocked off two Lone Star Piggly Wigglys and a bank in Indiana the same day you crossed into Oklahoma. But you hear your brother's punchline one too many times, and Bonnie hightails it through the wheat fields, homesick for her mama. You drive her back to a picnic in the Lone Star state where the boys pretend to be gut shot. When you promise Bonnie's mother, you're better at escaping than at robbing banks, you lie about settling down. The gang collapses when the dog steals your brother's shoes during the chicken-dinner ambush. In another hot-wired getaway car, you stop to help a farmer change a tire outside of Gibsland while eating your last bruised pear.
What If the Mannequin in the Muncie Art Walk Gallery's Glass Cupboard Were Tom Waits
He gropes at the doorknob of time while Rosalita and Rosetta roller skate past the glass door. A slouch hat shadows his eyes, and he wears a denim shirt like a Salvador Dalí cape. The troubadour peers out at the art walkers, who sample jalapeño jelly and wines named after poets
who specialize in sepia odes to Sinclair stations. The skin on Waits' face has recaptured his youth so that one imagines his voice rediscovering his Heart-Attack-and-Vine timbre. Or the baritone he honed during the year he spent as a monk with the 36 Immortals of Poetry. At the art soirée a clerk regales her jewelry customers with tales of fortune tellers from Père Lachaise cemetery. Of midnight visits to the graves of Oscar Wilde and Edith Piaf. Of her tryst with the Lizard King. Waits stands ignored behind the cupboard's windows. A trinity of paper owls circles above a 3-D printer, presaging a fleet of drones. The girls who are named for roses have never heard anyone whistle past a graveyard. Nor have they ever punched a hole in the night while riding a downtown train.
Riding Shotgun with Soul Driver
You're riding shotgun in Soul Driver's Cadillac as she navigates the highways between America's Springsteen towns. Mahwah to Johnston to any city of ruins. Soul Driver doesn't speak as she steers toward Atlantic City. Where people who live a paycheck away from sleeping beneath a bridge play the long odds. You pass gun shops, tattoo parlors, and pawn brokers, all fawning in the neon glare of a 24-hour Wal-Mart. None of last year's black swallowtails pollinated the bindweed this summer. No fireflies rose from the grass as dusk descended. Today the world's forests burn while you double-check your lottery tickets. While America forces brown children in dog cages to drink from toilets. Along the berm, large men in camouflage jackets pose under Confederate flags beside SUVs while carrying assault rifles. Soul Driver asks Siri for a re-route to Asbury Park. Head lights prism your vision. You take a break to stretch your legs. If you stop at the amusement park on the boardwalk, the gypsy will tell your fortune again. For enough money she'll promise you about something more than dead butterflies.
Photo by Nicolas Messifet on Unsplash
Brief Bio: Michael Brockley is a retired school psychologist who lives in Muncie, Indiana where he is looking for a dog to adopt. His poems have appeared in The Parliament Literary Journal, Eunoia Review, and Visiting Bob: Poems Inspired by the Life and Work of Bob Dylan. Poems are forthcoming in Last Stanza Poetry Journal, Syncopation Literary Journal, and Jasper's Folly Poetry Journal.
Please follow and like us: